FRP Ladder System
Brand : Strongrate
Product origin : Jiangsu,China
Delivery time : 20GP 1 week/ 40GP 2 weeks
Supply capacity : 2-4 containers per month
Low weight, ready to assemble and unique design are the advantages of FRP ladder system. The signal yellow color also makes people feel safe and reliable when they walk up or down stairs. FRP ladder rung is quite a good partner to FRP ladder, which could provide extra anti slip protection for safety. The ladder rung could have various grit mesh size for different friction request in ranges of cases.
Ladder System
Strongrate® corrosion resistance fiberglass ladder are found throughout the world in a variety applications and industries where safety, low maintenance costs, easy installation and long service life are essential.

A variety of color choice:
The standard color is safety yellow, but any systems can be custom ordered to your specific color requirements.

Safety Ladder System
OSHA (Occupational Safety Hazards Association) requirements for ladder and ladder systems
1. 90kgs concentrated load (minimum at center of rung)
2. Distance between ladder rungs maximum 300mm, minimum clear width between side rails of
400mm
3. Distance from centerline of rungs to wall in back of ladder shall be not less than 180mm
4. Cage required on ladders of more than 6m to a maximum unbroken length of 9m
5. Cage to extend minimum of 1000mm above of top of landing
6. Cage shall begin minimum 2100mm to maximum 2400mm above base of ladder (floor)
7. Cage shall not be less than 690mm in width
8. Cage hoop vertical bars shall be located at a maximum spacing of 40 degree around
circumference of the cage



Features of Safety ladder system:




Ready to Assemble




Light Weight




Unique Design Made to Order






Ladder Rung System
Strongrate® FRP ladder rung system can make a non-skid ladder rung surface for the ladder no matter the material of ladder is FRP or traditional kinds, like steel or aluminum. We provide two kinds of ladder rungs: U shape ladder rung and semicircle ladder rung. The standard surface type is gritted surface (Quartz or Ceramic grit).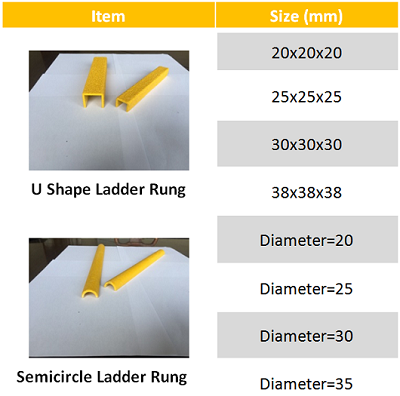 Please feel free to give your inquiry in the form below. We will reply you in 24 hours.